The main goal for most websites is to generate more leads for a business. The sad truth is, many websites serve only as a resume or brochure. A website with no lead generation strategy will not be worth the price you're paying for it. So let us dive into the topic of building a website that drives more business to your doorstep.

1. When writing your website copy, focus on the benefits you offer.
One of the most important elements of your website is the content that educates prospects about your business. This copy is usually found on your home page, your about page, and your product or service pages.
A lot of business owners and website designers focus on points that a prospect isn't going to care about. Take this statement for example:
"We have been in business since 1978 and we provide the best landscaping services around!"
DON'T DO THIS.
This statement fails to give a prospect any information about why they should choose your business, what benefits or value you offer, and why you are the best company to fill their needs.
When writing website copy, you should always remember that people buy based on their wants and needs, not what you think they want and need.
So let's try that statement about landscaping again.
"We have been taking the stress out of lawn care since 1978. If you want to reclaim your weekend and stop spending so much time working in the yard, give us a call!"
BOOM! MUCH BETTER.
This statement is more persuasive and it urges people struggling with the stress of lawn care to contact your landscaping business.
Remember these points when writing website copy:
People buy for their reasons, not yours.
Identify a problem that your prospect has and write copy that lets them know you are here to solve that problem for them.
Always focus on the benefits and value you offer instead of using statements like "We are the best landscaping company ever!!!" You need to let a prospect know WHY you're the best.
2. Use strong headlines and calls to action above the fold on your landing pages.
The content that is above the fold, or before you have to scroll down a web page is the most important bit of real estate on your website. Every website visitor that you get has to see this content.
Take this opportunity to catch their attention quickly, let them know how you can solve their problems, and encourage them to contact you.
The above the fold content should have a benefit-driven heading and sub-heading followed by a strong call to action. You may also include your phone number above the fold so visitors can quickly contact you directly.
Check out the example below from Unbounce.
Notice how Unbounce immediately lets a prospect know what they do and how they can help. These headings are then followed up with a call to action that is designed to encourage a user to explore their product.
You can learn more about landing pages in the article that I wrote recently. It goes into more detail about how to build a winning landing page that will turn visitors into leads.
3. Implement a live chat feature to capture leads.
Chat features are a hot trend in digital marketing. Implementing a chat feature on your website is a great way to quickly capture a website visitor. It also allows the visitor to contact you quickly if they have a question about your products or services.
Here are a few benefits of using a chat feature on your website:
Many platforms allow you to see when someone is active on your website. From there, you can quickly ask them if they need any help finding the information they are looking for. This allows you to start a conversation quickly.
If you are away from your computer and not about to live chat, you can set up a chatbot that will answer questions when you are away. The user can go through the chatbot and if it doesn't answer the questions, the user can fill out a form that will be delivered to your email. You can then follow up with the user.
There are chatbots out there that will completely qualify leads for you and set up sales calls. This allows you to focus on other parts of your business while a bot generates leads for you.
Having a floating live chat feature gives the user an immediate way to contact you or your sales team to get answers. There is no need to navigate away from the landing page.
Here are a few live chat providers that will work great for your website:
If you have the budget and you are interested in an out of the box live chat platform with bot capabilities, check out Drift.
If you are looking for a completely free live chat platform for WordPress, check out WP Live Chat.
If you want a completely free chatbot solution, check out AnaChat. This software takes more time and technical knowledge to configure but it is a great solution to building chatbots tailored specifically to your business.
4. Invest time into content marketing.
Content is what educates your customers and keeps your rankings up on search engines. Spending time making educational blog posts is a great way to grab users attention and educate them before they contact you.
Your content marketing strategy is going to take a lot of time and effort but it will pay off in the long run. If you invest the time into creating content, you will see more traffic to your website and more well-informed leads calling you. Sharing your content across your social media platforms will help drive more customers to your website.
Content marketing doesn't have to stop at blog posts, though. You can create videos, infographics, e-books, and more. Any kind of educational material that benefits your prospective customers is a great time investment.
A lead generation website needs a lot of great content to persuade prospects to contact you. If you can answer all of their questions and give them the information they need, they are more likely to contact you over the company that didn't even attempt to answer questions on their website.
Content marketing is also crucial for your website's search engine optimization. If you have questions about SEO, check out our FAQ for small business SEO.
5. Use web design standards to capture attention and lead visitors.
If your website is cluttered and doesn't lead the user's eye to your calls to action, you are already missing opportunities to build your business through your website.
When you are creating your lead generation website, you need to take in to account every aspect of your design.
Here are some questions to ask yourself or your designer:
Am I using enough white space?
White space is important because it helps emphasize your product. It naturally leads the eye to your product or call to action.
Here is something you SHOULD NOT DO: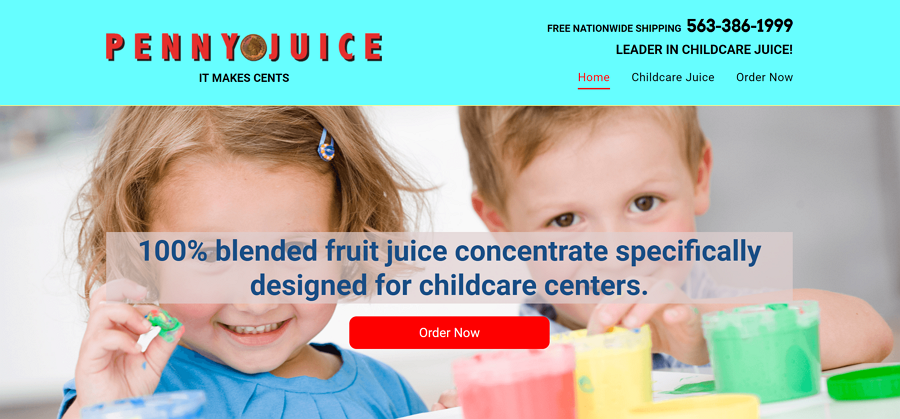 Notice that there is no white space or space around the call to action. The children in the background take your attention away from the headline and call to action. Be sure to use white space to emphasize your calls to action or your product.
Check out this example of using white space to create emphasis:
Notice how there is white space around the headline and call to action. There is also white space around their navigation. This is much easier to look at and navigate.
Am I using contrasting colors to grab attention?
The goal is to grab users attention immediately. Be sure to use contrasting colors to lead a user's eyes to your call to action or bit of important content.
Notice how the call to action in the example above catches your eye and leads you to the "Shop Now" button.
You want to make sure you are using colors that grab the user's attention. If your calls to action blend in with the background or don't stand out, people will be less likely to notice them.
We recently published an article that goes into detail about selecting the colors for your website. This article will help you decide on the correct colors to match your intentions and grab a user's attention.
Is my design easy for the user to process?
When you are designing your website or working with a website designer, you need to make sure your website design offers a fluid experience for the user.
Do not clutter all of your content into one space. Let your content breathe and place it in a way that is easy for a user to notice and interact with.
Here is an example of what you SHOULD NOT do:
This design doesn't lead your eyes anywhere and it's a safe bet to assume that this website has a high bounce rate.
If a user lands on your website and they are overwhelmed, chances are they are going to leave and never come back. This means you just lost a potential sale or client.
When designing your website, make sure it is easy to read and follow.
Conclusion
If you are wondering how to get more leads from your website, you can follow these simple tips to improve your website's conversion rate.
Write benefit-driven content that adds value to your product or service.
Use strong headlines and calls to action above the fold to grab a user's attention immediately.
Implement a live chat feature to generate leads and answer customer questions. Investing in a chatbot can help generate leads when you're away from your computer.
Invest time in content marketing to educate your customers, improve your SEO, and draw more users to your website.
Use website design concepts like white space, color contrast, and fluid layouts to make the user experience more seamless and easy.
If you need help designing a website that works for your business, check out Noctem Media's website design services. We specialize in creating websites that generate more business for our clients.